<![if !vml]>

<![endif]>

                      

<![if !vml]>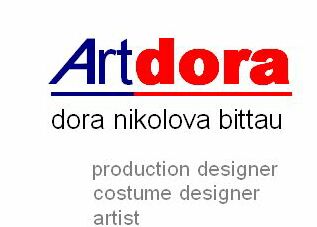 <![endif]>
Photo by Brad Reynolds, S.J.
Short painter's Biography
DORA NIKOLOVA BITTAU has graduated from the Fine Arts Academy in Sofia, with a degree in production
and costume designer. The artist has worked in cinema, television and major theaters in Bulgaria, designing
sets and costumes for over 250 television programs, 17 feature films (Bulgarian, Hungarian, Italian and Russian
co-productions), over 50 theatrical shows by classical and contemporary authors, such as Shakespeare, Schiller,
Brecht, Lorca, Goldoni, Gogol, Tolstoy, Coldwell, Bulgakov, Saltykov  Shchedrin, Tennessee Williams, and others.
She has also worked on 10 animated films.
Other activities: fashion designer, preservation and restoration of murals, paintings, book illustrations,humoristic
graphic art, tapestries, projects for publicity posters, metalplastics, stained glass windows... She wrote exhibition
reviews for the Bulgarian magazine "Art", fashion and films articles, published drawings and caricatures.
Her work has appeared in over 90 exhibitions of paintings, set and costume design, puppets, humoristic graphic
art, etc., in countries such as Brasil, USA, Canada, Russia, Germany, Poland, Bulgaria, Yugoslavia, Italy, Malta…
                                                                                                                (exhibitions-under construction)
She has worked at the:
<![if !supportLists]>· <![endif]>FASHION HOUSE "Rila", Sofia-as costume designer.
<![if !supportLists]>· <![endif]>
<![if !supportLists]>· <![endif]>BULGARIAN NATIONAL FILM CENTER, Boiana in:
                  Animation Studios -      (under construction)                                                 
                            Feature Film Studios – as production and costume designer  (under construction)                         
<![if !supportLists]>· <![endif]>BULGARIAN NATIONAL TELEVISION – as head scenographer for the television theatre for the young.
<![if !supportLists]>· <![endif]>    
                   TV theatre   (under construction)
TV theatre for the young       (under construction)
·   MAIN THEATRES in Sofia and other Bulgarian cities  
Dora's paintings are located in:

 
  PUBLIC PLACES:
   Bulgaria: · University of Tarnovo
             Italy:     ·  Abbey of St. Eutitius, Preci, (Perugia);
                           ·  Marymount International School, Rome
            USA:
                   ·  The Chapel of St. Ignatius Seattle University, Seattle, WA;
                   ·  The Church of St. Catherine of Siena, Hillside, New Jersey;
·   Copley Cript Chapel, Copley Hall, Georgetown University, Washington, DC;
                   ·   Novitiate, Portland, Oregon.
<![if !supportLists]>· <![endif]>Madonna della Strada Chapel Regis University, Denver, Colorado;
<![if !supportLists]>· <![endif]>Gonzaga Preparatory School, Spokane, WA;
<![if !supportLists]>· <![endif]>Gonzaga University, Spokane, WA;
and other places.
PRIVATE COLLECTIONS:
             New Zealand, Australia, Bulgaria, Italia, England, Greece, Philippines, India, Mexico,
             USA (New  York, Washington, Dallas, San Francisco, Los Angeles, Seattle,
             Detroit, Fairfax, Williamsburg, New Jersey, New York, and in other cities).
 "I don't know where many of my paintings are. It's impossible for me to remember all the theatre and television
shows for which I've created sets and thousands of costumes, without taking even one photo and without leaving
a trace. In these years of frenetic work, it has not crossed my mind to make a note where, what and with whom I
worked. I also used to forget to take the honorary that I deserved. Since the beginning of my career I was working
for free, feeling uneasy to receive rewards for something that was giving me so much joy and satisfaction".
                                                                                                                                   Dora Nikolova Bittau
"Dora's paintings are the synthesis of the most archaic and vivid static world of the Byzantine iconography tradition.
She represent this tradition in the newest manner of today's expressionism and surrealism".
                                                                                                             Oscar Magnan,S.J.,PhD
                              (Full Professor in the Fine Art Faculty of St. Peter's
                                                               College, New Jersey, USA).
The artist lives in Rome, Italy.
She is married and has a daughter Polina Bittau (New York), and a son Andrea Bittau (S. Francisco CA).
                                The page is under construction. Follows:
              Filmografhy, Television, Theatre, Paintings, Exhibition , articles and others….